Showresults 2003



Here can you see the father and the mother with one son and one daughter of them.
From left to right: Play Mec du Manoir de la Grenouille.( Pilou ) Son: Suna Regens Blossoms Keyzer.
Ronndal Oozing Style.( Blossom ) Daughter: Suna Regens Blossoms Keylinn
Blossom and Plilou's puppies are now to old to compete amongst the puppies anymore as t
hey have become juniors.
But they had an incredible show career in the puppy classes though.
Of six puppies four has been shown regularly and the results is AMAZING.

Of 20 shows they have won
19 BOB's, 4 BIS, 11 BIS placements and 8 BOS !!
Just fabulous, isn't it ?
Thanks a lot to all the judges who thought so highly of them.

At S.K.K's great Nordic Winner show 2003, Blossoms Keyzer won the Junior Class and became Nordic Junior 2003 with CC, and turned out to be 3'rd best mail in competition with 90 whippets.
All this at the age of 11 months.
Judgespecialist: Petsy Gilmour, Dumbriton Kennel. UK
His Brother, Blossoms Keyko awarded puppy of the year 2003
in Rogaland, Norway
Again did Suna Regens Kennel won this prize of honor !!
Again a great weekend for Suna Regens Kennel 9th Nov 2003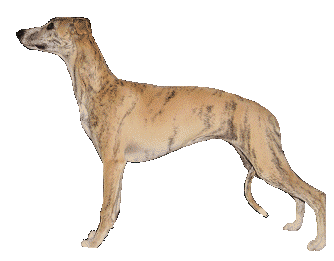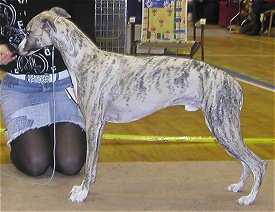 Blossoms Keylinn won HP, CC, and BOB she beeted her mother ( Blossom ) she's been 2 best bitch. Her brother,
Blossoms Keyzer, that won HP, CC, and BOS and in the end Keylinn became 2 BEST IN GROUP!!
Blossoms Keyo got HP and 2 best dog, at Kongsberg,Norway
Judgespecialist: Arne Foss, Norway
On Saturday 8th Nov. Blossoms Keyko won HP, CC, BOB and 3 BEST IN GROUP!! at Stord, Norway
Judge: Petter Fodtstad, Norway
Skedsmo October 25-2003
Also another great weekend. Keyzer won juniorclass, HP, CC and 2 best dog beated of his father, Kiss of Love got
HP and
Josephine won HP,res. CC and end up to be 2 best bitch.
This weekend October 05/03 in Lillestrøm was a great one for us.
On Keyzer's first outgoing as a junior,
he won, juniorclass, HP, CC and BOS.
Judgespecialist: Nenne Rundsten, Sweden


And this weekend Sept. 27 - 2003 was a great one for us.
Suna Regens Blossoms Keylinn made her debut at NKK`s Int. show in Fredrikstad.
She won the junior class with the prize of honour and finished up to being
2 winner with the reserve CC,
in a very hard competiotion with bitches from Norway and Sweden, just 9 months and two days old.
She was only beated by Adagio True Love from Sweden.
Her mother, Blossom was shown to and was BEST BITCH, BOB and 2 BOG
In the breed she beated both, Adagio True Love and Adagio Love Supreme, Sweden
Jugde specialist: Ingebjørg Stenhaugen, Norway
Skedsmo 20- Septemb- 03
Kiss of Love did it again!!! BOB, BOG and 4-BEST PUPPY in SHOW
Hundorp 07.September 03
AGAIN did Kiss of Love it great!!
She won BOB, BOG and 2 BEST PUPPY in SHOW
Haugesund 31/08/03
won Keyko again BOB, BOG and 2 BIS puppy
Haugesund 30/08/03
won Keyko BOB and 2 BOG puppy
ON HAUGER, BÆRUM 24-August
WON KISS of LOVE BOB, BOG and BIS4 (puppy)
KEYZER VON BOS
JOSEPHINE been 2 best bitch with CK
Judge: Juan C. Nevada, Spain and Tore Fossum, Norway
Today in Kongsberg 10 August
Won Blossoms Keyko BOB, BOG and finally BIS puppy again !!
AGAIN did Keylinn it very well
9-August 03
BOB, BOG and 2 BEST PUPPY IN SHOW !!!!!!!
only beaten by a lovely Keeshound.
( look for yourselv )

Keyko won BOS------------->
Judge: Ingebjorg Sten haugen, Norway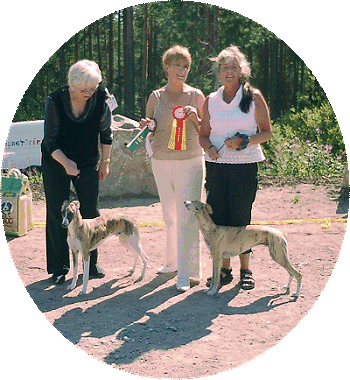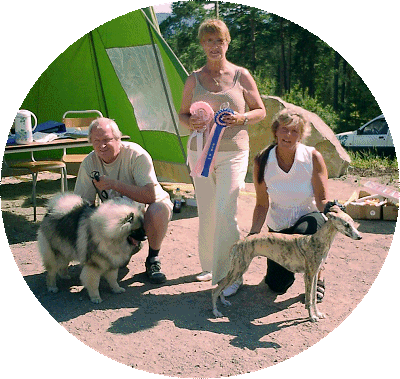 BLOSSOMS KEYLINN BEST IN GROUP!!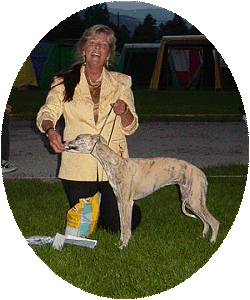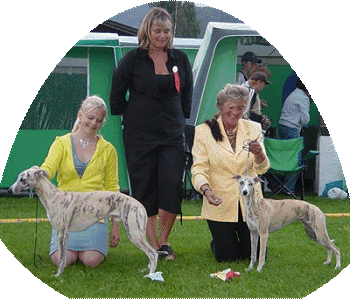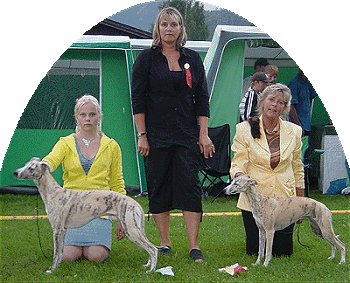 Nesbyen, Hallingdal, Norway 1 August 2003
Blossoms Keylinn won BOB, BEST IN GROUP AND 3 BEST IN SHOW puppy
And her brother Blossoms Keyo won BOS on his first outing !!

Blossoms Keyzer 2 best. Blossoms Keiko 3 best and Blossoms Kiss of Love 2 best (bitch)
Nesbyen, Hallingdal Norway 2 August 2003
Blossom won BOB and 3 Best in Group
Sighthound specialist:
Per Iversen, Norway
and his judgeassistant Kirsten Landsverk, Norway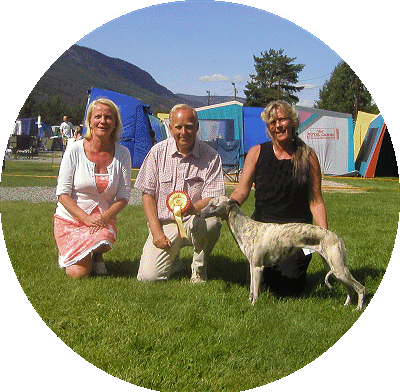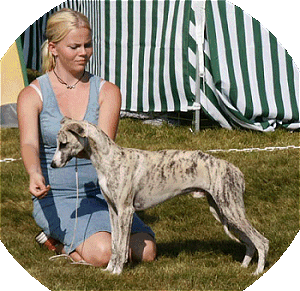 TAMSVIK, SWEDEN 27.07.2003
On Swedens biggest Sighthound Show
Blossoms Keyzer won !
BOB and 2 BEST PUPPY IN SHOW!!
Judge: Margaret Martin (Barnesmore) N.Ireland
Photo Taken of Annika JanssonKennel Hot Isle, Sverige
RANSÄTER 26.07.2003
Blossoms Kiss of Love won BOB and
BEST PUPPY IN SHOW !!
( 45 puppies in competition!! )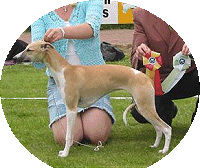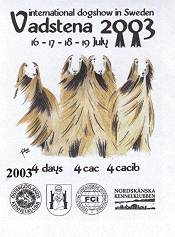 BLOSSOMS KEYLINN WON 2 DAYS OF THREE ENTRIES

First- day BOB
Judge: Hiracio Pizzorno, Uruguay
Second -day: 2 Best bitch
Judge: Sue Carter
Third-day: BOB
Judge: Joe Walton and
R - BEST BABY PUPPY in SHOW
Judge: Marshak Avi, Israel
Blossoms Keyo
6mnd. old.
He's unbelievable
like his mom !!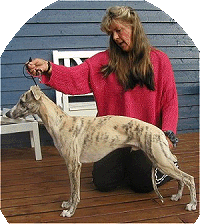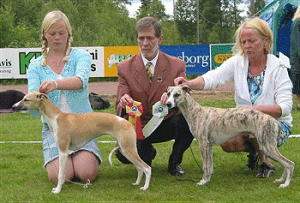 ONES AGAIN DID THE BROTHER AND THE SISTER
WON BOB AND BOS !! of the youngster
Kiss ended up with 2 BIG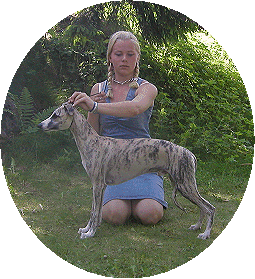 RESULTS FROM SUNDVOLLEN 07. and 08.06.03
Keyzer won BOS again of the youngster on our
biggest Sighthound Show in Norway.
Judge: John Palmer, Australia
Results from Sandnes, Norway 01.06.03
Blossoms Keyko is doing well again, on his second outing,
BABY PUPPY in SHOW!! on a Special Sighthound Show.
Together with his owner Else M. Norheim. Haugesund
Judge: Leif L. Sørensen, Denmark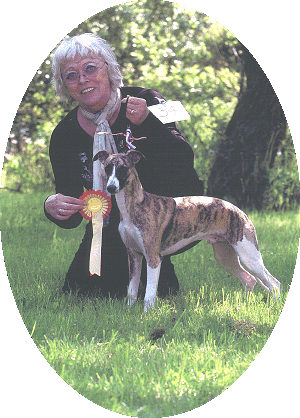 Great news from the Show over the weekend.
Aarnes 25.05.03



This day won Keylinn BOB puppy, her mother BOB and BEST IN GROUP !
+ Keyzer won BOS puppy again !
under: Sighthound specialist, Lynne Lee, Malaysia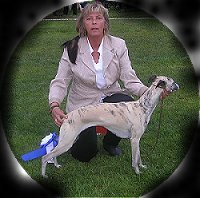 Results from Aarnes 24.05.03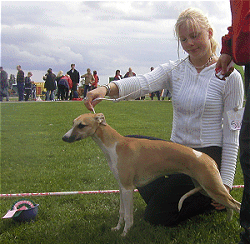 Kiss of Love won BOB
and 4 BABY PUPPY in SHOW!!
well done, Kiss and Cecilie!
Judgees: Kennet Hogg, S Africa and
Anne Indergaard, Norway
Her brother Keyzer
won BOS !!


Results from Askøy 04.05.03
TODAY ON BLOSSOMS KEYKO's VERY FIRST SHOW,
HE HAS ALSO A GREAT DEBUT.
KEYKO WON BOB, BEST IN GROUP and
BEST IN SHOW 5
Judge: Roald Haakonshellen, Norway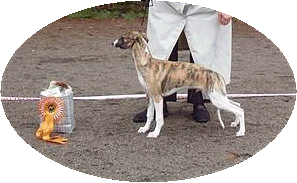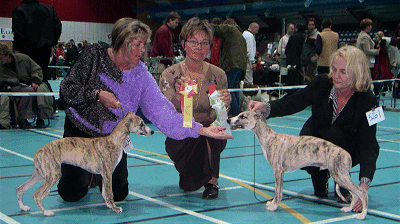 TODAY ON BLOSSOMS KEYLINN AND
BLOSSOMS KEYZER'S
VERY FIRST OUTING, THEY HAD A GREAT DEBUT !!
KEYZER WON BOS IN THE PUPPY CLASS
KEYLINN WON BOB , Judge: Mette E M Tufte, Norway
and BEST IN GROUP Judge: August De Wilde, Belgia
and in the end
3 BABY PUPPY in SHOW Judge : Mette E M Tufte, Norway
Pic of me and Keylinn in the group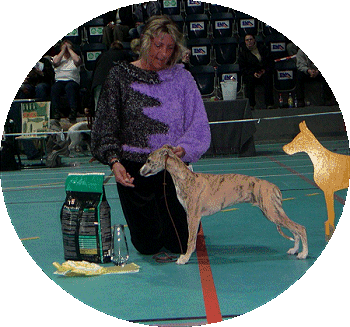 This wasn't enough !!
Blossoms Josephine
took her first CERT and ended
up to be BOS.
Judge: Jack Peden,
South Africha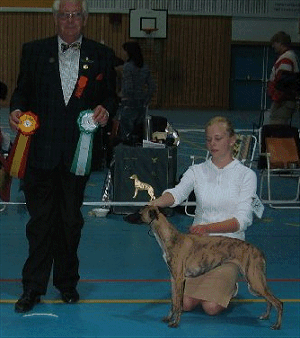 BLOSSOM BORN HER 6 PUPPIES
26.12.02, GO TO PUPPIES PAGE_2
Blossoms son, Jackson awarded puppy of the year all breeds 2002
in Rogaland, Norway.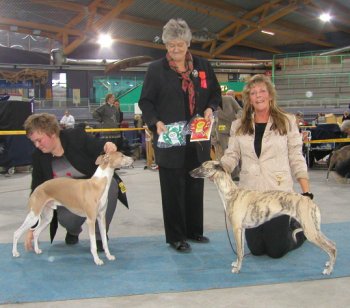 RESULTS FROM NORDIC VINNERSHOW HAMAR
24.11.2002
Blossom won BOB, Nordic Winner 2002
and Best In Group 3
Judgees: Nenne Runsten and Glen A Dymock
Blossoms Jackson won again, Stord 10.11.2002
BOB and 2 Best In Group Judge: Kari Edmund, Norway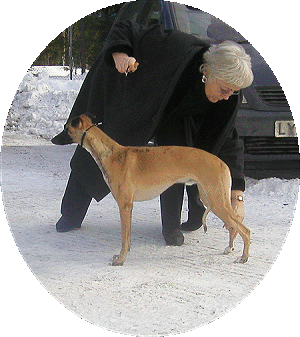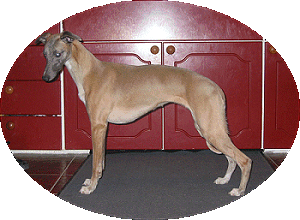 Blossoms Jamaica also did it again!! 26.10.2002
in Skedsmohallen, Norway Judge Eli Marie Klepp and Trond Bystrøm, Norway
She won BOB, Best In Group and Best In Show 5
And her father: Cobyco Call My Dash ( Pius )
witch I personally handled to all his CC's
gained his Norwegian Champion title, and ended up to be 2'nd best dog
Blossoms Jackson did it again!!!
in Orrehallen, Norway 20.Oct.2002 there he won
BOB and Best In Group 3 Judge: Alan Moody
NKK, Østfoldhallen, Norway 05.10.02
BLOSSOM WON CC, BOB, CACIB and BOS
Judge: Normann Huidobro Corbett
Bergen Racketsenter, Bønes, Norway 28.09.02
SUNA REGENS BLOSSOMS JACKSON won BOB, BEST IN GROUP and
2 BEST IN SHOW!!
Judgees: Ferelith Sommerfield, August de Wilde and Joyce W. Mann
Sunday 08.09.2002 on Indre Ostfold Dog Club
Judge: Steinar Balken, Norway
Won Suna Regens Blossoms Jamaica BOB and Best In Group, AGAIN !!
And Suna Regens Blossoms Jewel nr. 2
On our special Norwegian Sighthound club 01.09.2002
Judge: Saija Salovaara, Finland
Won Suna Regens Blossoms Jewel her class to day at the show and
Suna Regens Blossoms Jamaica nr. 2
Results HONEFOSS, NORWAY 25.08.2002

BLOSSOMS JAMAICA WON AGAIN
BOB, BEST IN GROUP AND BEST IN SHOW2 Judge: Eli Marie Klepp, Norway

BLOSSOMS JACKSON WON AGAIN BOS on the same show 25.08.2002
Date 17.08.2002 Bygdetun, Norway
WE DID IT AGAIN!! BUT THIS TIME WITH SUNA REGENS BLOSSOMS JAMAICA AND
SUNA REGENS BLOSSOMS JACKSON ( Their brother )
JAMAICA WINNING BOB, BEST IN GROUP AND BEST IN SHOW 2
JACKSON WINNING BOS, AND BEST IN BOS SHOW 3 ( Pic follow later )
SUNA REGENS BLOSSOMS JEWEL NR. 2 and SUNA REGENS BLOSSOMS JOSEPHINE NR. 3
Judge: Oivind Jensen, Norway

Date 02.08.2002 Nesbyen, Hallingdal, Norway
TODAY ON JEWEL's VERY FIRST SHOW, SHE HAD A GREAT DEBUT !!
WINNING BOB, BEST IN GROUP and BEST IN SHOW 3 !!!
Judge: Aud Fossum, Norway and Inger Ronander, Norway
Her sister BLOSSOMS JAMAICA been 2 best in the puppy class and
BLOSSOMS JOSEPHINE been nr.4 and their brother:

BLOSSOMS JAKCSON nr. 2 in his class